FEATURED PRODUCTS
1.
OBLIQUE TYPE HIGH SPEED SINGLE FACE
2.
VERTICAL TYPE SINGLE FACE
3.
ROTARY REEL TO SHEET CUTTING
4.
SHEET PASTING (GLUING MACHINE)
5.
PLATEN DIE CUTTING MACHINE
6.
SHEET FED FLEXOGRAPHIC PRINTING MACHINE.
Product Range


SHEET PASTING (GLUING MACHINE )
The machine is used for applying glue on the tip of the corrugation 2 ply sheets to make different ply. It consists of three rollers which is smoothly finished to ensure even lamination of boards. Wheels with eccentric bushes are provided to the one roller for the adjustment far optimum application of gum & one far even impression on 2 ply board. Hard Chromed rollers are provided far economy and better quality at an additional cast.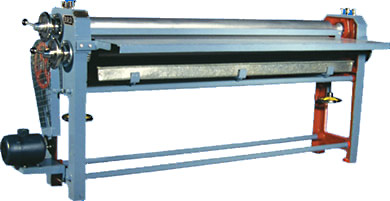 Technical Specifications:
Machine Size
65"
75"
85"
95"
105"
Motor Required (H.P)
0.5
0.5
0.5
0.5
1
Floor Space
30"x85"
30"x95"
30"x105"
30"x115"
30"x125"
Machine Height
45"
45"
45"
45"
45"
Gross Weight (Kgs)
500
600
700
800
900
Production Capacity
5000
5000
5000
5000
5000
Next >>