FEATURED PRODUCTS
1.
OBLIQUE TYPE HIGH SPEED SINGLE FACE
2.
VERTICAL TYPE SINGLE FACE
3.
ROTARY REEL TO SHEET CUTTING
4.
SHEET PASTING (GLUING MACHINE)
5.
PLATEN DIE CUTTING MACHINE
6.
SHEET FED FLEXOGRAPHIC PRINTING MACHINE.
Product Range


SHEET PRESSURE MACHINE
The machine is utilised to obtain quality production of corrugated sheets a strongly built machine has been fabricated for lamination aiming accurate setting of freshly glued sheets It also helps to maintain the even shape of sheet.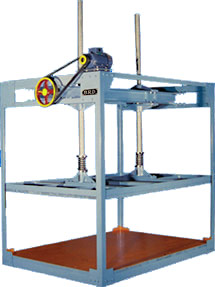 Technical Specifications:
Machine Size
50"x70"
60"x80"
60"x90"
70"x100"
Motor Required (H.P)
1.5
2
2
3
Floor Space
55"x85"
65"x95"
65"x105"
75"x115"
Machine Height
145"
150"
150"
150"
Gross Weight (Kgs)
1200
1600
1800
2000
Production Capacity
5000
5000
5000
5000
Next >>