FEATURED PRODUCTS
1.
OBLIQUE TYPE HIGH SPEED SINGLE FACE
2.
VERTICAL TYPE SINGLE FACE
3.
ROTARY REEL TO SHEET CUTTING
4.
SHEET PASTING (GLUING MACHINE)
5.
PLATEN DIE CUTTING MACHINE
6.
SHEET FED FLEXOGRAPHIC PRINTING MACHINE.
Product Range


SFH-600
OBLIQUE TYPE HIGH SPEED SINGLE FACE PAPER CORRUGATION MACHINE
The Machine offers high rate of production and enhanced efficiency. The flute rollers are mounted on bearings for smooth running & imparts proper impression on paper . Two Pre-heaters are provided for demoisturising the paper. Motorised reel stand is provided Variable speed motor is provided as standard with this model. 'JUMBO' Type Motorised reel stand with capacity of lifting upto 1 ton reel can be provided at an additional cost.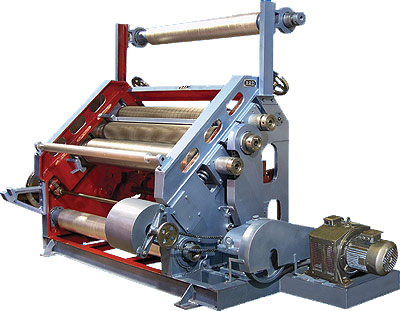 Technical Specifications:
Machine Size
52"
(132 cm)
56"
( 142 cm)
62"
(157cm)
72"
(183cm)
Motor Required (H.P)
7.5 & 3
7.5 & 3
7.5 & 3
10 & 5
Heating Load (KW)
45
45
45
60
Floor Space
104"x180"
(264x457 cm)
108"x184"
(275x468 cm)
115"x180"
(292x457 cm)
126"x180"
(320x457 cm)
Machine Height
72"
(182cm)
72"
(182cm)
72"
(182cm)
72"
(182cm)
Gross Weight (Kgs)
4000
4200
4400
4600
Production Capacity (RF /PM)
110
110
110
110
Next >>