FEATURED PRODUCTS
1.
OBLIQUE TYPE HIGH SPEED SINGLE FACE
2.
VERTICAL TYPE SINGLE FACE
3.
ROTARY REEL TO SHEET CUTTING
4.
SHEET PASTING (GLUING MACHINE)
5.
PLATEN DIE CUTTING MACHINE
6.
SHEET FED FLEXOGRAPHIC PRINTING MACHINE.
Product Range


PLATEN DIE CUTTING, CREASING & EMBOSSING MACHINE
The Heavy Duty Platen punching and embossing machine is utilised for cutting, creasing, embossing and punching of corrugated sheets. The drive and stop to the platen is transfered by an electromagnetic clutch. Two safety guides are provided for instant stoping of the machine in emergency.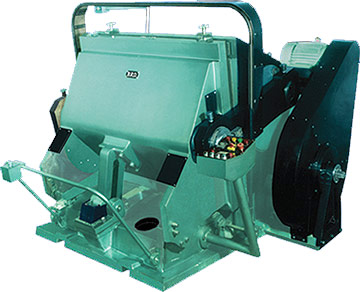 Technical Specifications:
Machine Size
Platen Size
Impression Per/ Hour
Motor H.P. Required
Floor Space
Gross Weight
20"x26"
23"x29"
2000
3 H.P.
60"x45"
2.7 MT.
20"x30"
23"x33"
2000
3 H.P.
60"x51"
3.0 MT.
22"x32"
25"x35"
1800
5 H.P.
62"x53"
3.5 MT.
25"x37"
28"x40"
1800
5 H.P.
65"x55"
4 MT.
32"x42"
36"x46"
1500
7.5 H.P.
70"x68"
5.5 MT.
36"x50"
40"x54"
1200
7.5 H.P.
77"x75"
7.5 MT.
45"x65"
49"x69"
1000
10 H.P.
86"x92"
10.5 MT.
Next >>