FEATURED PRODUCTS
1.
OBLIQUE TYPE HIGH SPEED SINGLE FACE
2.
VERTICAL TYPE SINGLE FACE
3.
ROTARY REEL TO SHEET CUTTING
4.
SHEET PASTING (GLUING MACHINE)
5.
PLATEN DIE CUTTING MACHINE
6.
SHEET FED FLEXOGRAPHIC PRINTING MACHINE.
Product Range


OBLIQUE TYPE HIGH SPEED SINGLE FACE PAPER CORUGATION MACHINE WITH ROTARY SHEET CUTTER MACHINE
The machine is an exclusively high precision robust Oblique type single facer attached with auto sheet cutter and it gives ready cut 2 ply board in one complete operation. The machine offers enhanced efficiency & high rate of production. The flute rollers of the single facer are mounted on bearings for smooth running & long life. The flutes are made of special alloy steel and the gum rolls are hard chromed for better performance. Two Pre-heaters are provided to demoisturise the paper. The single facer corrugation output is 150 ft/ min. The main bearings are lubricated with high temperature grease. 'JUMBO' type motorized hydraulic reel stand is provided. A.C. drive controller with master control for synchronizing the speed of corrugation & sheet cutter is provided with this type of machine. The attached sheet cutter can cut 2 ply board minimum 20 inches & maximum 80 inches damaging the flutes. The machine can be heated by Thermic Fluid as well as steam boiler.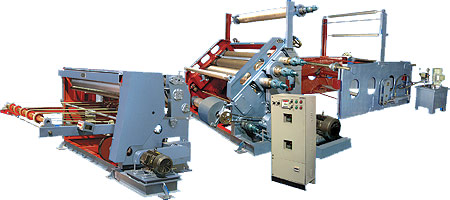 Next >>