FEATURED PRODUCTS
1.
OBLIQUE TYPE HIGH SPEED SINGLE FACE
2.
VERTICAL TYPE SINGLE FACE
3.
ROTARY REEL TO SHEET CUTTING
4.
SHEET PASTING (GLUING MACHINE)
5.
PLATEN DIE CUTTING MACHINE
6.
SHEET FED FLEXOGRAPHIC PRINTING MACHINE.
Product Range


SFV-600
VERTICAL TYPE SINGLE FACE PAPER CORRUGATION MACHINE
The Vertical Model is sturdy in construction and simple to operate. The rollers are bush mounted Electric heaters are provided for appropriate conversion of paper to 2 ply corrugated sheets. The machine is provided with manually operated twin shaft reel stand. The variable speed motor is recommended for better quality & economy in wastage at an additional cost. Normal motorised reel stand or 'JUMBO' Type Motorised reel stand can be provided at an additional cost.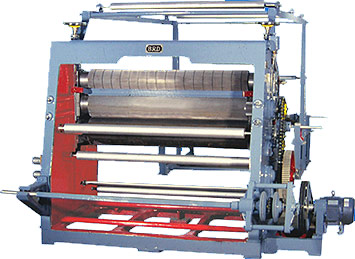 Technical Specifications:
Machine Size
32"
42"
45"
52"
56"
62"
Motor Required (H.P) (Manual Reel Stand)
3
3
5
5
7.5
7.5
Motor Required (H.P) (Motorised Reel Stand)
3 & 2
3 & 2
5 & 2
5 & 2
7.5 & 2
7.5 & 3
Heating Load (KW)
15
21
21
27
27
36
Floor Space
80"x165"
90"x175"
95"x180"
101"x185"
105"x190"
120"x195"
Machine Height
70"
70"
70"
80"
80"
80"
Gross Weight (Kgs) (Manual Reel Stand)
2200
2500
2700
3000
3200
3500
Gross Weight (Kgs) (Motorised Reel Stand)
2800
3000
3200
3800
4000
4200
Production Capacity (RF /PM)
70
70
70
70
70
70
Next >>