FEATURED PRODUCTS
1.
OBLIQUE TYPE HIGH SPEED SINGLE FACE
2.
VERTICAL TYPE SINGLE FACE
3.
ROTARY REEL TO SHEET CUTTING
4.
SHEET PASTING (GLUING MACHINE)
5.
PLATEN DIE CUTTING MACHINE
6.
SHEET FED FLEXOGRAPHIC PRINTING MACHINE.
Product Range

PARTITION SLOTTER
The machine is utilised for making partition board. Six slotting heads are provided. Slot depth is six inches.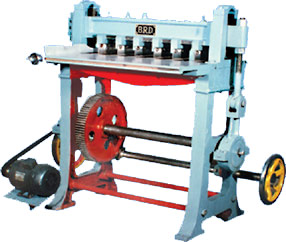 Technical Specifications:
Machine Size
32"
36"
44"
Motor Required (H.P)
1
1
1.5
Floor Space
30"x62"
30"x66"
30"x74"
Machine Height
50"
50"
50"
Gross Weight (Kgs)
800
900
1100
Production Capacity (Stroke / Min.)
60
60
60
Next >>